Retractable Roll Screens
---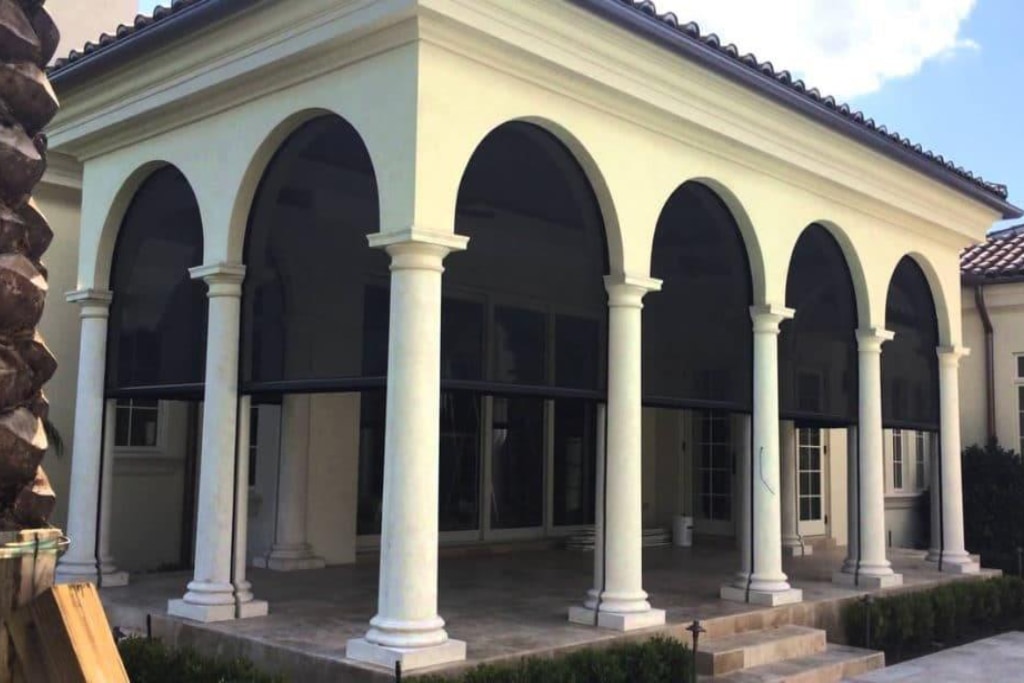 Nothing puts a damper on your nightly patio time quite like pesky mosquitos or flies. What if you could get more enjoyment out of your outdoor living area without coating yourself with bug spray first? Here at Sun Solutions, we specialize in the installation of retractable roll screens, so you have the freedom to close off your patio area to keep bugs out or leave it open when desired.
If you're interested in creating a more functional patio space with retractable roll screens, our experts at Sun Solutions are here to make the process easier for you. To request a free quote, please call us at 256-822-4228 or contact us online. 
Retractable Roll Screens in Alabama
Retractable roll screens give you more freedom in how you want to use your patio space. When there's too much sun shining in, you can easily roll down the screen to make your area shadier. Do you want to soak in all the vitamin D that you can? Simply roll your screen back up to take in the rays. With a retractable roll screen from Sun Solutions, you can have the best of worlds!
How Do Retractable Roll Screens Work?
Retractable screens come with protective housing, which fits around doors, windows, or any other openings. The screen rolls up into the housing when not in use, becoming virtually invisible. Then when you want to use the screen, it unrolls out of the housing to offer you protection from bugs and the sun.
You can use these screens year-round to help you get more enjoyment out of your outdoor living space, regardless of what the weather is like outside.
Different Ways to Use a Retractable Roll Screen
A retractable screen is a good option for almost any homeowner. If you need some inspiration about when you might use one, we've got you covered:
Create an insect-free play area for your kids
Add a sense of privacy to your backyard
Prevent excess sunlight from coming into your home by installing it on interior windows
Create a relaxing outdoor space that's perfect for relaxing after a long day
Create a bug-free outdoor eating area
Add one to your garage for extra privacy while working on your cars
Create a balcony area where you can enjoy the breeze without the bugs
The Most Important Things to Consider When Choosing a Retractable Roll Screen
There are several different options you can choose when deciding whether to install retractable roll screens around your home. Let's take a closer look at the most important things to consider when making your decision.
Motorized vs Manual
There are both motorized and manual versions of retractable screens for easy operation. If you choose a motorized option, you can use a remote to automatically roll the screen up or down with the touch of a button. A manual option, on the other hand, requires you to turn a hand crank to roll the screen up and down.
Most homeowners find that motorized roll screens are more convenient and easier to use, but they can also be a bit more expensive, so keep that in mind when planning your budget. If you want to get retractable roll screens for a price that works for you, explore our financing options!
Size
When you decide to install retractable roll screens, think about where you'll get the most use out of them. From there, we can help you determine the exact size you need by taking accurate measurements around your home.
Our retractable screens can be customized to fit your door or window openings, no matter how large or small they are.
Screen Type
Next, you can choose the type of screen you want. There are fiberglass shade options as well as solar screens, which help provide extra protection against harsh UV rays. You can also decide how small or wide you want the mesh holes to be.
Our experts are here to help you decide which screen type makes the most sense for your needs, depending on where you want to install them and how you plan to use the space.
Color
Finally, you can decide what color you want the housing and the screen to be. For the housing, the most important thing to decide is whether you want a color that blends in with the rest of your exterior for a seamless look or if you'd rather choose something that contrasts. We are happy to show you the different color options available to help you make your decision.
The Benefits of Adding a Retractable Roll Screen to Your Home
If we haven't quite convinced you yet that you need a retractable roll screen added to your home, consider some of the benefits you can enjoy after the installation.
It Can Help You Save on Energy Costs
Installing a retractable roll screen on your patio area can help keep excess sunlight from entering your home, which means your air conditioner doesn't have to work as hard to maintain a comfortable temperature inside. As a result, you might notice a decrease in your energy bills, especially during the summer.
It's Customizable to Your Space
No matter where you want extra protection from the sun, our experts will customize your retractable screen to perfectly fit your space. For example, if you want to turn your garage into a workshop, adding a screen to the door opening will provide you with extra ventilation while you work.
Traditional window screens are often stiff, bulky, and difficult to use. But with a motorized retractable window screen, you can have as much or as little protection all with the click of a button. What could be easier than that?
It Doesn't Block Your View
While retractable roll screens add extra privacy to your outdoor living area, they don't block your visibility. You can still enjoy the beautiful view in your backyard even when the screen is down. Of course, if you want a completely unobstructed view, all you have to do is roll it up again. At the end of the day, it's all about having options for your patio area.
If you want to enjoy your outdoor area without having to worry about bugs, spiders, birds, or any other critters coming in, a retractable roll screen is the perfect solution. The screen is impenetrable to insects, so you can enjoy your time outside without having to worry about dangerous bug bites. We can also offer Spider Dockter services, which spray a mist that acts as a deterrent for insects.
It Protects Your Outdoor Furniture
Full exposure to the elements can take a toll on your outdoor furniture over time. Even if you properly care for your furniture, the harsh rays of the sun can cause your furniture to fade or even crack. By installing a retractable solar shade screen, you'll give your furniture, plants, and outdoor decor extra protection from the sun, so they last longer.
It Offers Sun Protection for Your Family
Along those same lines, too much UV exposure can be harmful to humans as well. If you want to enjoy plenty of time in the great outdoors without worrying about excess sun exposure, adding a retractable screen to your patio area is a great option.
Why Choose Sun Solutions?
When you want to make an update to your home, our name says it all. We are the local experts when it comes to offering high-quality solutions that provide shade from the sun. Beyond installing retractable roll screens, we specialize in a variety of other projects like awnings, patio covers, sun sails, and more.
When you choose us for your installation, you can expect to be treated with respect at every turn. We'll take the time to listen to you, communicate with you throughout the project, and ensure that you are completely satisfied with the work we've done.
Schedule Your Retractable Roll Screen Installation Today
Are you ready to upgrade your patio area with a functional shade solution? We are here to answer any questions you have and help you choose the best retractable screen for your needs. To take the next step, please call us at 256-822-4228 or contact us online to make an appointment and request a free quote.
FAQs About Retractable Roll Screens
How should I clean my retractable roll screen?
If there is any debris on your screen, you can wipe it off with a microfiber towel. To get rid of any excess dirt, you can use an all-purpose cleaner, a garden hose, and a soft sponge to gently scrub it away. Keep in mind that you should never use a power washer on your screen. The spray is too strong and it can cause damage to the mesh.
How long will my retractable roll screen last?
With proper installation, care, and maintenance, you can expect your retractable roll screen to last upwards of 25 or 30 years! To help extend the lifespan as long as possible, we recommend keeping your screen rolled up when not in use. This helps protect it from unnecessary exposure to the elements.