Recessed Retractable Privacy and Solar Screens
---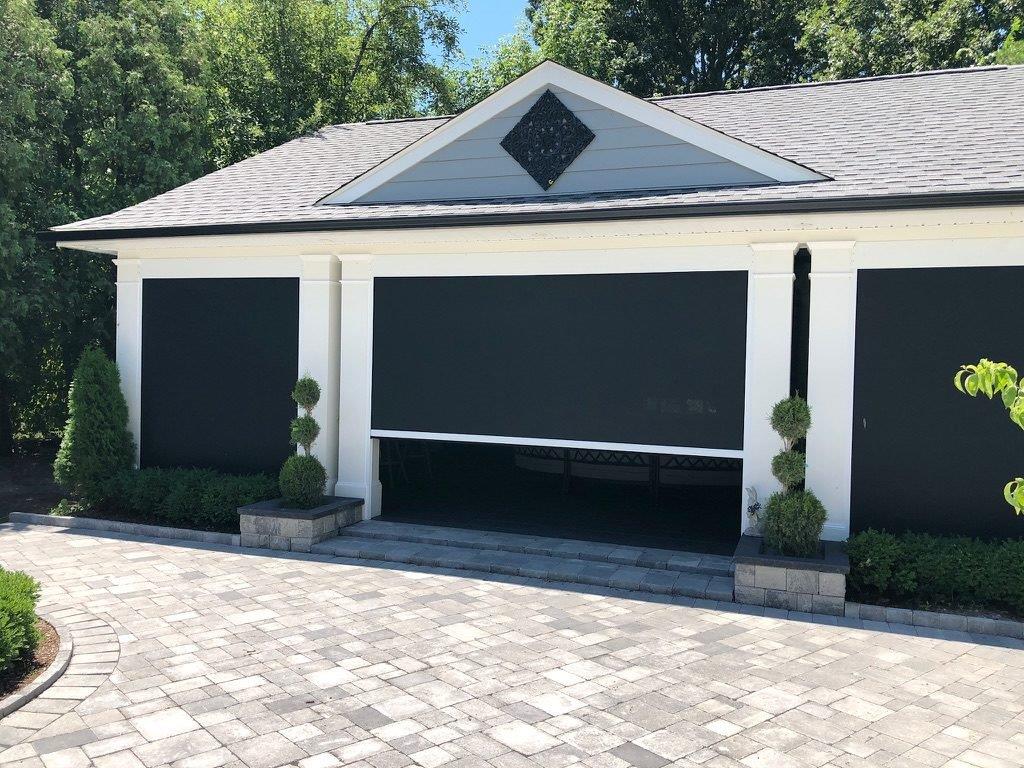 Here in Alabama, we're fortunate to get pleasant weather throughout most of the year. That's why so many local homeowners have decided to upgrade their outdoor living spaces for year-round enjoyment. If you'd like to get more use out of your own outdoor space, consider installing retractable solar screens with the help of Sun Solutions!
We specialize in installing high-quality screens that will instantly upgrade your patio or deck so it's more comfortable to use. To learn more about how we can transform your outdoor area, please call us at 256-822-4228 or contact us online.
Quality Recessed Retractable Privacy Solar Screens in Alabama
When you want to expand your usable living area to the outdoors, adding a retractable solar screen is one of the best ways to do it. Our motorized screen options help to block out the sun when you want, but they can roll up in a matter of seconds when you want plenty of vitamin D.
How Do Retractable Solar Screens Work?
When you decide to install a retractable solar screen with the help of Sun Solutions, we'll install a horizontal housing in your desired location. Our housings come in a number of different finishes so you can choose an option that discreetly blends in with the rest of your outdoor space.
When you want to use it, a heavy-duty yet quiet motor will release the solar screen and lower it to your desired length. When you're done using the screen, it will roll back up into the housing for a seamless look.
Retractable Solar Screen Features
As you decide whether a retractable solar screen is the right choice for your outdoor space, consider the features of this convenient shade option.
Customizable Size
All of our retractable privacy and solar screens are customized for your specific needs. When you hire Sun Solutions for your installation, our experts will come out to your home, take accurate measurements, and create a solar screen system that perfectly fits in the space.
Easy-to-Use Button
Our retractable solar screens couldn't be easier to use! To release the screen from the housing, all you have to do is press a button to retract it. From there, you choose exactly how far down it should go, giving you the perfect amount of shade. When you're ready for it to roll back up, simply press the button again; that's all there is to it.
High-Quality Parts
Here at Sun Solutions, we believe in providing only the best products to our customers. All of our retractable solar screens are made with high-quality parts that are designed with durability in mind. The quiet motor won't disturb you when you retract the screen on a relaxing day.
Likewise, the screen itself is made from our tightest mesh fabric to provide a thick barrier between your family and the outdoors. While they offer the ultimate protection, they won't completely block your view, so you can still enjoy the beauty of the great outdoors.
Mesh Options
To help ensure you get the exact screen that you want, we offer a variety of different mesh options. You can choose which color will best suit your outdoor space, how open the screen fabric will be, and more so you can create a beautiful and functional outdoor space for your family.
Motorized Screen Tracks
Our retractable solar screens have parallel tracks along the sides of the opening for superior performance. They are also weighted on the bottom, which helps to keep them on track. Our skilled installers can install these tracks so they are hidden for a sleek look that will look great in any outdoor space.
Benefits of a Retractable Solar Screen
Are you still wondering if a retractable solar screen is the best option for your outdoor living space? Let's take a closer look at some of the benefits you can enjoy by adding one to your home.
Where to Install a Recessed Retractable Solar Screen
When you're trying to decide where to install your recessed retractable privacy or solar screen, it's important to think beyond the patio. There are several places we can install this screen system so you can get maximum enjoyment out of your home. We have a few ideas below to leave you feeling inspired.
Schedule Your Recessed Retractable Solar Screen Today
Don't wait any longer to upgrade your patio, balcony, garage, or sunroom with a high-quality solar screen. When you're ready to take the next step and talk to our experts about your project, please don't hesitate to call us at 256-822-4228 or contact us online.
Retractable Solar Screen FAQs
How should I clean my screen when it gets dirty?
You can use a soft-bristled broom to gently remove debris, bugs, and dirt from your screen. If you notice stains on your screen, you can use warm water, mild dish soap, and a soft cloth to wipe it down. If you want to rinse your solar screen, never use a power washer, which can damage the fabric. Instead, you can use a garden hose to do the job.
Are there automation options for retractable solar screens?
Yes! Our screens come with a handheld remote, but you can also control them using a smartphone app for extra convenience. Additionally, our screens are compatible with most home automation systems.